Investing in massage is an investment in your health.
Schedule your appointment online on the book now page for a massage today.
******All appointments must be made in advance. Book online only! Couples massage and dual massage appointments are not available.****** ( special note: I would like to start having you book a couples massage if interested, but since this would include me securing another independent therapist's schedule you would need to contact me (by texting the business number is best) well in advance to schedule and pay us separately. Therefore this would not be bookable online. Also when booking I would be securing your credit card payment for my portion via Stripe. If you have any questions please reach out. In addition, couples massage would not be privy to first time special price, any discounts, deals, coupon vouchers or gift certificates of any sort at this time.
Rates and specials are subject to change at any time without notice.
Monthly specials:
No Specials at this time..look back soon! 1-29-19
First time client massage:
Swedish massage with benefits of aromatherapy lotion and hot towel service included (regularly valued at $100 for 60 min session) Price applies for client booking thru website only no coupons or vouchers can be applied.
60 min. $69
90 min. $109
2 hours $149
**deep tissue is $10 higher, but these rates do not apply for Reiki, Prenatal, Vibrational Sound Therapy or Hot Stone Modalities.

Spa Services Packages:
The Zen Package 80 min $175
First let your mind float away from stress with a full 20 min scalp and face massage, then you will continue your massage journey with a full 30 min massage customized with your preferred pressure and choice of aromatherapy, then your massage concludes with a full 30 min salt stone foot massage *2 hour notice needed to warm stones*
The Clarity Package; 3hrs $350 (Includes 110 mins of massage)/ 2 hrs $235 (Includes 50 mins of massage)
Session time: 3hrs/(*2hrs)= your consultation time, 50 min Vibrational Sound Therapy, and 110/(*50) mins of massage. First you will receive a 50 min Vibrational Sound Therapy Session. Extra time is needed to awaken from this session. Next you will receive your massage. Your therapist will determine a combination of modalities that will work to address your goals of your massage. Modalities that may be used are as follows: Swedish/ Deep Tissue/Reflexology/ Cranial Sacral/ Stretching/ Myofascial/ and Reiki.
Steam Table Sauna (20 min $40 or 30 min $50)
Only book this if you wanted to do the steam as a stand alone appointment!! Great care is taken to ensure you remain comfortable by checking in often and using cool compresses on your face, head, and neck if needed. Drink plenty of water before your session as you will be losing a lot of water weight during this session. *Please wear a swim suit to this session under your clothes.*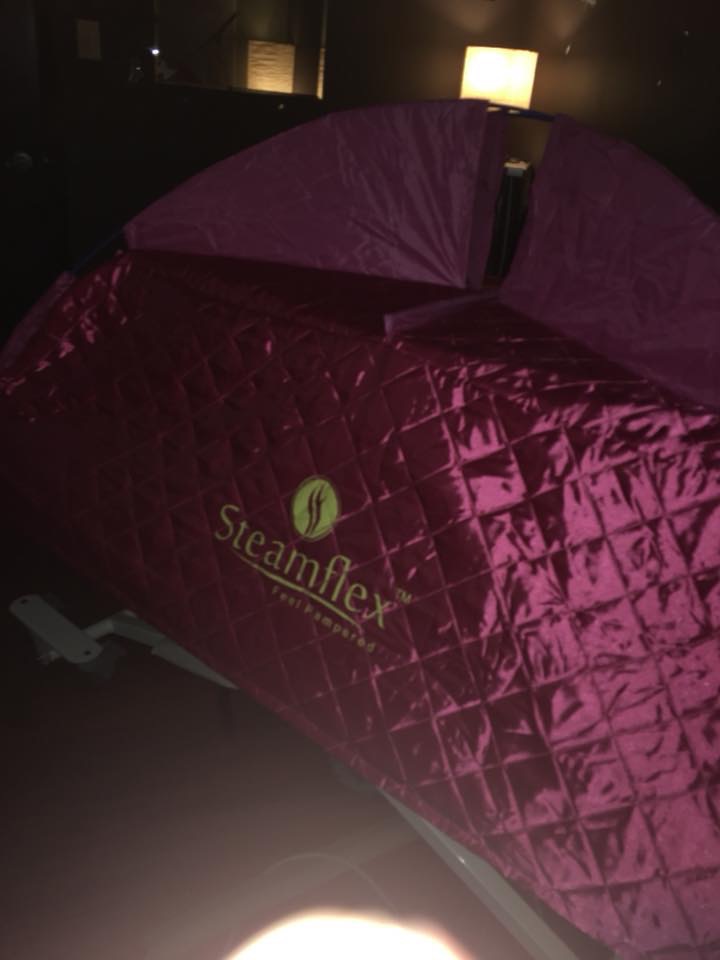 Steam Sauna & Massage Combo
(**VIP!) Please note: ** 1.You must bring a swimsuit for this session** 2.Drink PLENTY of water before your session. 3.You can decide if you want to have a 20 or 30 min steam session the remaining time will be for hands on customizable massage. Please note the first 5 min of any session will be for intake purposes and the last 5 min of you session is for redress and to go over your massage and answer any questions you may have.
60 min $105
90 min $135
120 min $175
Massage Modalities offered:
Brand New!*
Vibrational Sound Therapy~ Each session has a 5 min intake &10mins; to gently awaken from this deeply relax ing session. For example, a 65min session =50 min VST session, 45min=30 min VST session, and the 30 min session =15 mins of VST.All sessions are performed fully clothed. VST helps with insomina, focus, anxiety, stress, and more. **You cannot receive VST if pregnant or if you have a pace maker.
30 min $50
45 min $75
65 min $100
Reiki ~ Energy work: The entire session focuses on Reiki only. If you want a full massage with Reiki may I suggest getting the Reiki and Swedish Combo.
30 min. $55
60 min. $80
90 min. $110
Reiki and Swedish Massage Combo: Swedish massage with Reiki infused during massage.
30 min $65
60 min $95
90 min $135
120 min $175
Swedish Massage ~ light to medium pressure used:
The most popular type of massage for clients seeking relaxation. Flowing effleurage and petrissage techniques are used as your mind floats away into relaxation.
30 min $55
60 min. $85.00
75 min $105
90 min. $125.00
2 hours $165.00
Deep Tissue:
~ For the clients needing focused massage in one or more particular areas. This type of massage may devote the entire session to just one particular area of tension or stress. Deep tissue massage uses focused constant pressure of only 5 grams think the weight of 5 paper clips. More pressure can be applied if desired by client, but it is a misconception that a deep tissue massage is painful. Actually pain is not needed to be effective. The point is to relax your muscles and tissues not cause you more pain when you are in pain. Techniques used in this massage are efflerage and petrissage to warm the muscles and tissues. Then myofascial, trigger point therapy, pin and stretching, and muscle stripping and cross fiber friction techniques may be incorporated into the massage to help break up fascia and relax muscle areas. For example, if you have low back issues, you may want just your glutes and low back worked on for a 60 min session. Realize the more areas of your body you have that need focused work may require more time or multiple sessions. For more then 2-3 areas needing attention I highly recommend scheduling a 90 min or 2 hour session.
30 min $65
60 min. $95.00
75 min $115
90 min. $135.00
2 hours $175.00
Hot River Stone Massage - Deeply relaxing warm Basalt River stones are massaged into the skin with massage oil.
60 min $110
90 min $160
2 hours $210
Pink Himalayan Salt Stone Massage - Feel the energy of the 250 million year old mineral pink salt crystals from an ancient primal sea beneath the Himalayan Mountains which were hand-carved into massage stones that will gently soothe away an accumulation of stress, tension and pollutants. This luxurious Pink Himalayan Salt Stone Massage is an innovative healing technique using warm salt crystal stones which ground and balance your body's electromagnetic field, central nervous system and meridians. Himalayan pink salt stones offer 84 naturally occurring minerals and salts that replenish the body while being naturally antimicrobial and antibacterial. (Only coconut oil or jojoba oil is used for this massage to prevent the stones from disintegration.)
60 min $120
90 min $170
2 hours $220
Craniosacral Therapy - uses gentle touch manipulation on your head, neck and bottom of your spine, and hand placements on your head, neck, the bottom of your spine, abdominal region, quads, and feet.
30 min $65
60 min $95
90 min $125
Prenatal Massage~ No aromatherapy, no hot towel service allowed, and no nap can be added. Mandatory: You must be in your second trimester and bring a Doctor's note to ok prenatal massage.
30 min $65
60 min $95
90 min $135
Add ons:
Hot Towel Enhancement (Placed on back and neck to help warm up and relax the muscles and tissue quicker) $5.00
Customize Massage $15
Biofreeze Enhancement - Cold therapy gel placed on area that hurts after the massage so muscles continue to relax even further. $6
Posh Foot Scrub - At the end of your massage; Warm towels are used to relax tension in the feet, a foot scrub exfoliates any dead skin, then feet are cleaned off with more warm towels, and finally massaged with a body butter scent of your choice. This is an add on to your massage, and no extra time is added to your appointment. $15
Back Scrub~ An add on service to any of the above massages for $15.00.
Aromatherapy ~ An add on service to any of the above massages for $15.00. An essential oil of your choice is used in the lotion for your massage. I use Young Living essential oils as well as Biotone aromatherapy lotions.
*You can always check the Young Living website to see what each oil is good for and its ingredients. I have briefly stated in () what each oil promotes.
Young Living Essential Oils: <the following are diluted with a V-6 vegetable complex carrier oil>
Bergamot (uplifting),
Citrus Fresh (uplifting, refreshing aroma),
Clarity (invites a sense of clarity & alertness),
Dream Catcher (positivity),
Eucalyptus Globulus (refreshing),
Frankincense (uplifting, grounding, spiritual connectedness),
Gentle Baby (tranquil, nurtured, inner reflection),
Inspiration,
Into The Future (inspirational),
Jade Lemon (uplifting),
Joy (bliss),
Lavender (relaxation & calm),
Live Your Passion (confidence, clarity, & inspiration),
Orange (peaceful, harmony, and creativity),
Peace & Calming (relaxation),
Spearmint (uplifting &calming),
Stress Away (relaxing & calming),
Tangerine (happy, content, & calming),
Valor (positivity & calming),
Ylang Ylang (floral scent; calming)
Young Living Massage oils: (these are pre made blends)
Sensation (inspires youthfulness), Dragon Time (calming & relaxing), Cel-Lite Magic (tones & nourishes skin), Relaxation (maximum relaxation)
Plant Therapy Oils:
Tranquil (smells like peace & calming)
Biotone aromatherapy lotions:
Lavender & Orange, Mint & Rosemary, Mandarin & Ginger, Bergamot & Rosewood, or Chamomile & Lavender
Diffuser Aromatherapy~ An add on service to any of the above massages for $15.00. An essential oil of your choice is diffused in the air while being massaged. (An alternative also for people who have highly sensitive skin and are very cautious of scents being used on their body
Pink Himalayn Stone foot massage~
30 min foot massage $70
Or as an add on to any massage (except pre-natal) and will be done at the last 10 min- 15 mins of your massage session. This does not add time on to your massage appointment but is part of your massage session. $35
New*~ Nap Time (1 hour Maximum per session allowed after a scheduled massage only)
Feel completely renewed after your massage by taking a power nap.
20 min $16.00
30 min $24.00
45 min $36.00
60 min $48.00
Gift Certificates:
in various denominations for any occasion. You can buy yours today on the gift certificate page. Gift certificates cannot be shared. They can only be used by the recipient for which it was intended. If you are trying to buy for two people or more you would need to buy them each their own gift certificate. It is always a good idea to include a tip with the gift certificate as well so that the recipient knows you covered that base as well and that they do not have to tip with their own money. You can either include this in a customized denomination gift certificate and let them know you gifted so many dollars towards a massage and the rest for a tip, or give it to them in cash with a printout of their gift certificate. Their is no other way to tip separately on a gift certificate at this time other then the above ways mentioned unless you are coming in beforehand to tip at which point I would prefer you to make an appointment with me so that I know what you are trying to plan. This is due again to my by appointment only status and I may be in session or not at the space if I do not have an appointment there.
Series: Find these in the drop down box when booking under special offers.
(Cannot be shared with anyone or gifted. Can only be used by the person purchasing.)
Essential Zen Series~ 6 customizable one hour massage sessions $455 (retails at $570 saving $115)
Basic Zen Series~ 3 customizable one hour massage sessions $235 (retails at $285 saving $50)
Newest series offers: 90 min deals!
Year of Zen - 12 Swedish or Deep Tissue 90 massages $1305 (retail $1620 saving $315 per year! For some, that is your gym membership annually.)
Zen and Now Series- 8 Swedish or Deep Tissue 90 min massages $885 (retail $1080 saving $195)
Zenful Series- 4 Swedish or Deep Tissue 90 min massages $495 (retail $540 saving $45)
Hot Stone Series; 4 (90min) Pink Himalayan Stone or 4 (90 min)Basalt River Stone massages for $600